This is an open response to what a vitriolic argument that upset many in an online community.
A lot of people seem to believe there's a large segment of the disabled community who have an entitled attitude…Yeah i hate the word "entitled" too! Its bandied about a lot, particularly about millennials (which, yes also includes me!). The same principle I'm saying here in some cases applies in a very similar way.
Theres a big difference between giving people equality and giving people equity – and this is the crux of the issue!
What is the difference?
Equality
the state of being equal, especially in status, rights, or opportunities.
"an organization aiming to promote racial equality"
Equity
the quality of being fair and impartial.
"equity of treatment"
Equality means that everyone has the same. Which is great if everyone is starting off at the same place. But, using the image of the 3 children trying to see a baseball game, if they are of three different heights, giving them the same size box doesn't help if the smallest still can't see. Equity is everyone being allowed to reach the same point, regardless of needing extra help or not. The tallest might not need a box. The middle child may only need a small box. But, the smallest child may need a larger box to be able to see as well as the other children.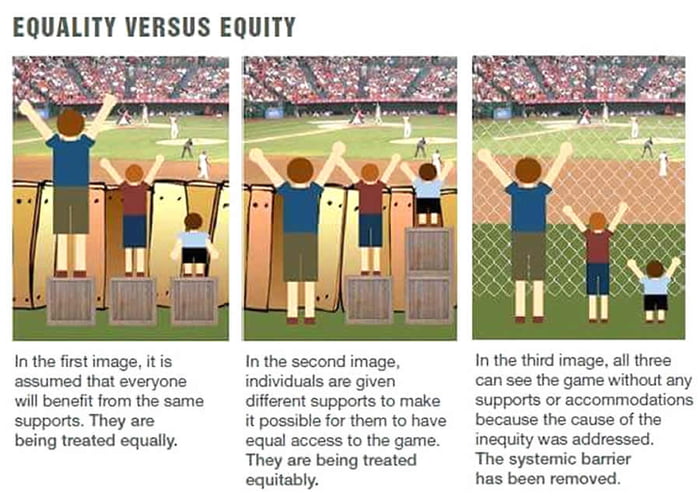 So in the example of the disability community how does this apply?
Blue badge parking is very good example. If you are non-disabled then you do not need to use a car. That a choice you can choose to make. But if you aren't able to use public transport and have to pay the cost of both fuel and car parking charges, that puts you at a disadvantage to someone who may have been able to use public transport or walk and had to pay no extra cost. Hospitals, councils and private car parks are now charging many blue badge users. This further puts them at a disadvantage to those who can make the choice to use cheaper transport, or park further away.
Free carer tickets are another example. If you are non-disabled then you are unlikely to need a carer. But if you need a carer to assist you carrying out activities as a non-disabled person would, then it is equitable to offer free carer tickets. Regardless of if you need one carer or two. I would much rather not have to have a carer assist me, and not have to need to make use of free carer tickets. They aren't a luxury, they are a necessity, as blue badge parking is.
Reasonable adjustment
Reasonable adjustment should always be equitable. It is not about giving people special treatment, or anything additional to what they require to give them parity with somebody who is non disabled. The equalities act requires all public spaces to provide a reasonable adjustment to cater to those with disabilities. The issue here is that not everybody understands reasonable to mean the same thing and that the adjustments needed differ from person to person. If those providing the adjustments feel that everybody should given the same (i.e.  equality) and not given equity then this can cause issue. Many people seem to forget that reasonable adjustment is written into law. It is a legal requirement for any space which is open to the public to provide reasonable adjustment.
Part of the problem is that this is rarely enforced. Many people find it very difficult to take companies or local authorities to court over the lack of reasonable adjustment. There is no one single point where complaints can be made and investigated by an impartial third-party. If there was such a place then far more businesses and public spaces would have to be altered in order to comply with the equalities act. In some countries particularly in the US, There are guidelines as to which doors have to be turning spaces etc required by law to a make a space accessible. Not having such guidelines here in the UK makes reasonable an incredibly subjective term.
What About The Perks?
There are few, if any "perks" to being disabled. I have substantial additional living costs. My mobility aids are expensive because that's what I need, not what I want. My fuel costs are higher as I have to drive more and can't use public transport. I have to buy supplements because I have deficiencies due to my condition. The list is endless. I, and I believe all most all disabled people would rather not have their condition than have these supposed "perks".
The only true perk I have ever received is being put into the first class carriage on a train. This only happened because the other wheelchair space was full of other passengers luggage. Yes, the free orange juice was nice, but it would have been so much easier not needing that wheelchair bay or the ramps in the first place. I don't think the current government's scrounger sentiment has helped with this view of disabled people as entitled. Hate crime has gone up substantially, and many disabled people will say that due to cuts their quality of life has diminished, not gotten better. I know my life has only gotten harder!
So to those who have called me and others entitled, please note this. I am entitled by law to have the same access to services and public buildings as non-disabled people. I am entitled to have reasonable adjustments put in place so I can have the same experience as a non-disabled person. But does this mean I have an entitled attitude? No it does not!